Downloadable Beta Projects
Throughout the years, I've worked on a variety of games and applications that, for one reason or another, were indefinitely postponed from ever reaching completion. Some of them were for competitions, others for my own personal use. Included on this page are downloads to a variety of applications that are fully functional but not entirely complete (e.g., bugs, missing levels).
Games are not guaranteed to work on modern hardware; although I did test them before posting!
---
Storm Trapper (Action Puzzle Game)
Project Developed: 2005
Description: An action puzzle game inspired by the original Rodent's Revenge. Here you control a storm chaser vehicle that must trap the runaway tornados before they cause destruction. There are more than 30 levels and you can move the vehicle in any of eight directions using the number pad. Each level contains original graphics.
Known issues: The collision and movement handling is, at times, very glitchy! Sometimes a tornado escapes that shouldn't, and sometimes the collision handling results in an error that crashes the game. Pressing 'Esc' exits the game immediately. The high score system may or may not work perfectly.
Mega Bubble Brothers (3D Bubble Bobble Remake)
Project Developed: 07/2004 to 09/2004 (est.)
Description: A partial remake of one of my favorite console games, Bubble Bobble. This was created as part of a competition but did not get completed on time. It includes newly created 3D models of the major characters and objects of the original, and 50 3D levels--some remakes, some original. The music, I should warn you, is atrocious (I composed it in a few minutes due to time constraints).
Known issues: Two-player support is not available. Some glitches in the menu system. Unsure if password feature works right. This may not be the latest build but is all I have available.
Orbital Journey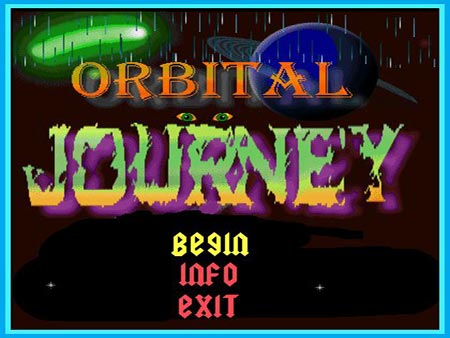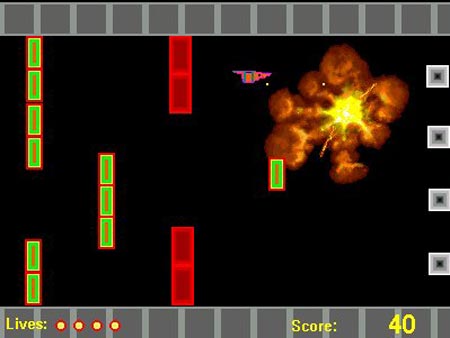 Project Developed: 07/2000
Description: What I believe is one of my very first graphical games (I produced many ASCII-based games back in the days of QB and Pascal), Orbital Journey had a wide variety of original enemies and platform textures, four increasingly long levels of gameplay, one final BOSS level, and more. You had to avoid contact with any of the level objects and could blow-up the enemies. I had considered this game long lost until I stumbled upon a copy of it in 2006.
Known issues: This game is deviously HARD (see readme for cheats)!